Dallon Weekes, long time Panic At The Disco bassist who co-wrote that band's massive hits "This is Gospel" and "Girls/Girls/Boys," and drummer Ryan Seaman, will see 1981 Extended Play, the debut release from their once and future band, i Dont Know How But They Found Me (iDKHOW), in-stores today  (Fearless Records). Part archeological excavation, part forward-thinking vision, 1981 Extended Play was produced, written or co-written by Weekes, and recorded at various locations in Utah and California.  The EP's six songs are a catchy concoction of art rock, '70s Glam, indie pop and alternative, with infectious, charismatic pop vocals.  1981 Extended Play is available here.
Two of the the songs on 1981 Extended Play, "Choke" and "Do It All the Time," were released this past summer as a double-A-side single, and have collectively accumulated a total of 9.7-million Spotify plays.  Last month, the music video for "Do It All The Time" was released, and has already racked up 1.1-million You Tube views.
iDKHOW made its first big appearance this past summer at the the UK's Reading Festival followed by headline shows in London, Manchester and Glasgow, all of which sold out in minutes. iDKHOW is currently on tour in the U.S. as main support for Waterparks; remaining dates are below.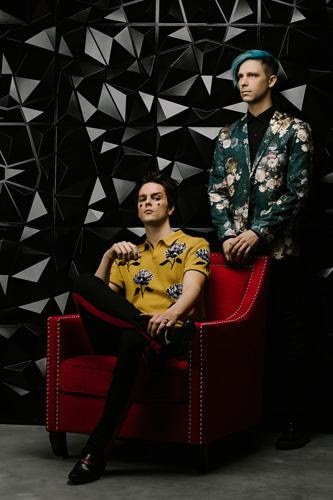 NOVEMBER
 9   Chameleon Club, Lancaster, PA
10  Starland Ballroom, Sayreville, NJ
11  Webster Underground, Hartford, CT
12  Anthology, Rochester, NY
14  Mr. Smalls Theatre, Millvale, PA
15  Agora Ballroom, Cleveland, OH
16  The Castle Theatre, Bloomington, IL
17  Blue Moose Tap House, Iowa City, IA
19  The Waiting Room Lounge, Omaha, NE
20  The Oriental Theater, Denver, CO
21  Mesa Theater, Grand Junction, CO
23  The Complex, Salt Lake City, UT
24  Jub Jub's Thirst Parlor, Reno, NV
25  Ace of Spades, Sacramento, CA
27  The Glass House, Pomona, CA
28  191 Toole, Tucson, AZ
30  Alamo City Music Hall & Club, San Antonio, TX
DECEMBER
1   Warehouse Live, Houston, TX